Gatsby's House - Houston New Year's Eve 2021
What better way to celebrate the Roaring 20s than with a Gatsby themed New Year's Eve party! Join us for the most upscale NYE in Houston.
Houston Nightlife presents...
GATSBY'S HOUSE
Houston New Year's Eve Celebration 2021
5 Hour Prepaid Bar
4 Areas To Mingle
3 Top Rated Texas DJs
2 VIP Areas
1 Amazing Countdown
Join us for the most upscale New Year's Eve Party Houston has to offer. Countdown 2021 in style at the Omni Houston Hotel. Take a look at the perks available to you at Gatsby's House NYE:
  •  Top Houston DJs playing the hits: EDM, Top 40 / Open Format
  •  Multiple Fully Staffed Bars
  •  State of the Art Lighting & Sound Systems
  •  Amazing VIP Ballroom w/ Extra Perks:
   •   'First come, first served' Open Seating
   •   Private Premium Prepaid Drinks
   •   Complimentary hors d'oeuvres
   •   Private DJ
   •   Limited Exclusive Access to VIP areas
   •   Upgraded Party Favors
  •  Complimentary Party Favors for ALL
  •  Coat Check Available ($3.00)
  •  One Spectacular Countdown Experience!
Time to drink champagne, dance on tables and celebrate the coming year at the greatest Gatsby-inspired New Year's Eve Party!! Gatsby's House 2021 - Houston's premiere countdown experience!!
(Houston, TX) – Gatsby's House is happening this NYE, December 31!! Located in Houston's fashionable Uptown neighborhood, Omni Hotel is bringing Great Gatsby glamour to Space City with a Roaring Twenties themed New Years Eve bash. Presented by Houston Nightlife, Gatsby's House is anticipated to be the most upscale New Year's countdown celebration in H-Town; with premium drinks, hors d'oeuvres, top-rated DJs, party favors for all and a casino night speakeasy with prizes to win.
Gatsby House will be a trip back to the Roaring 20s, when women were known as eccentric flappers and men spared no expense to be the big cheese. Starting at 9:00pm, New Year's Eve, guests will enjoy premium drinks from our fully stocked prepaid bar PLUS multiple courses of hors d'oeuvres, from the VIP area. * Each ticket purchase is prepayment for your choice of beverages.
This multi-room New Year's Eve party will have surprises throughout the night -- topped off with a champagne toast you won't soon forget!! So put on your best Great Gatsby attire and get ready to ring in 2021 in grand Gatsby-style as we bring you the decadence of the 1920s, just a century later!
General Admission Guests Will Enjoy:
VIP Guests Will Enjoy (and any of the above):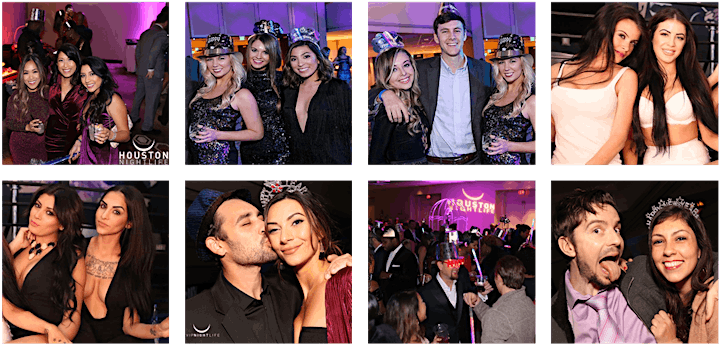 PURCHASE POLICY
Credit Card & ID:
Support:
Purchase Policy:
Event Booking:
Alcohol, Seating, Food:
Event Cancellations:
No Refunds:
Release of Liability:
Indemnity:
Collections & Legal Action Against Debt:
Arbitration Agreement:
Severability:
Thank you for your purchase!